Simon Andrade from Lucid Interiors is a busy man. At Moda we know this first-hand as we have specified several jobs together over the past six months and our relationship has gone from strength to strength in that time. I was fortunate enough to have Simon take half an hour out of his schedule to speak to me over Zoom to chat about all things Lucid Interiors.
Simon, so good to see you, even if it is via Zoom! Tell me about Lucid Interiors and what got you started?
We opened at the tail-end of 2016. I'd already been working freelance for a number of years and felt the time was right. I suppose you could say I was lucky, because I knew quite a few big contacts with imminent jobs on the go, such as Gleneagles Hotel, and I was able to get a nibble at those which gave Lucid a great start. People remember the good work you have done for them previously, so it didn't matter that Lucid was so young. People were putting trust in me and my personal reputation. Word of mouth is really powerful in the industry, and once the results of those first few jobs got out there, things started to build quite quickly. Truthfully, it can be daunting to keep everything going on your own once the ball starts rolling. It's tiring and requires a lot of energy but we're still going strong four years later.
As for the name Lucid, I totally made it up!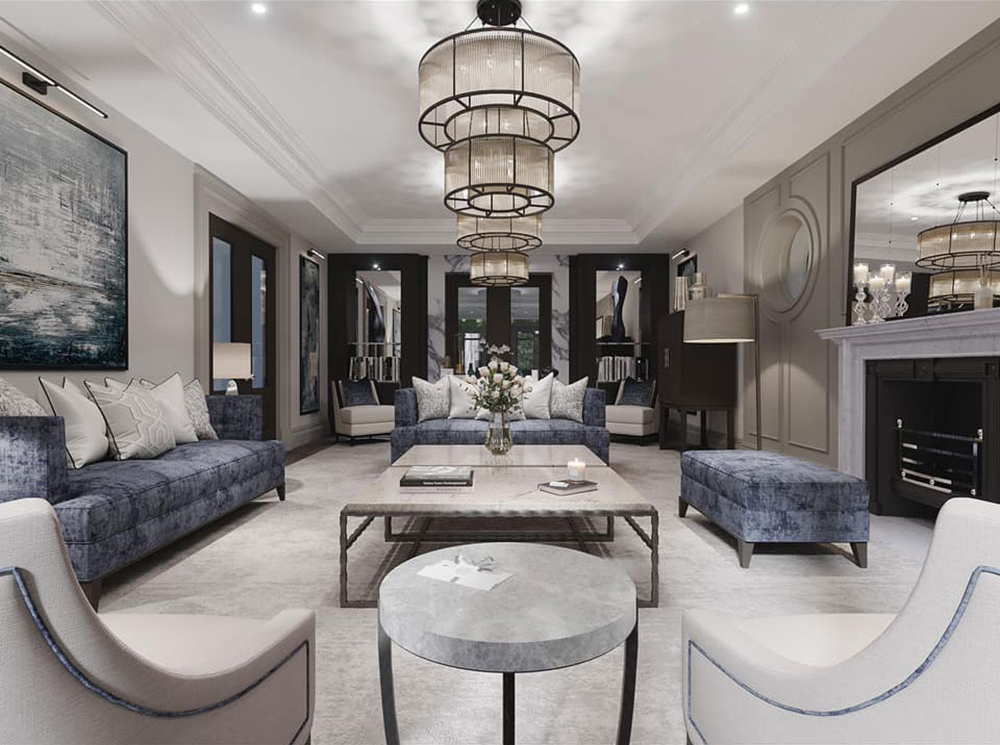 Private Residence Sitting Room
What have been the challenges of running your own studio, and if you could start all over again, would you do anything differently?
If I could start over, I'd become a pilot and fly around the world!
But the challenges… I'd say cashflow is a big one. Getting money in, getting paid… I suppose the difficult thing about my industry is that you have to put a price on your time and creativity. I'll come up with a design that I think the client will like, and because I'm providing a service, and design is so subjective, so much extra time can be taken up on all the little tweaks and changes to meet the client's preferences. It's hard to put a price on that, especially when all you want is for the client to be happy and you do it gladly.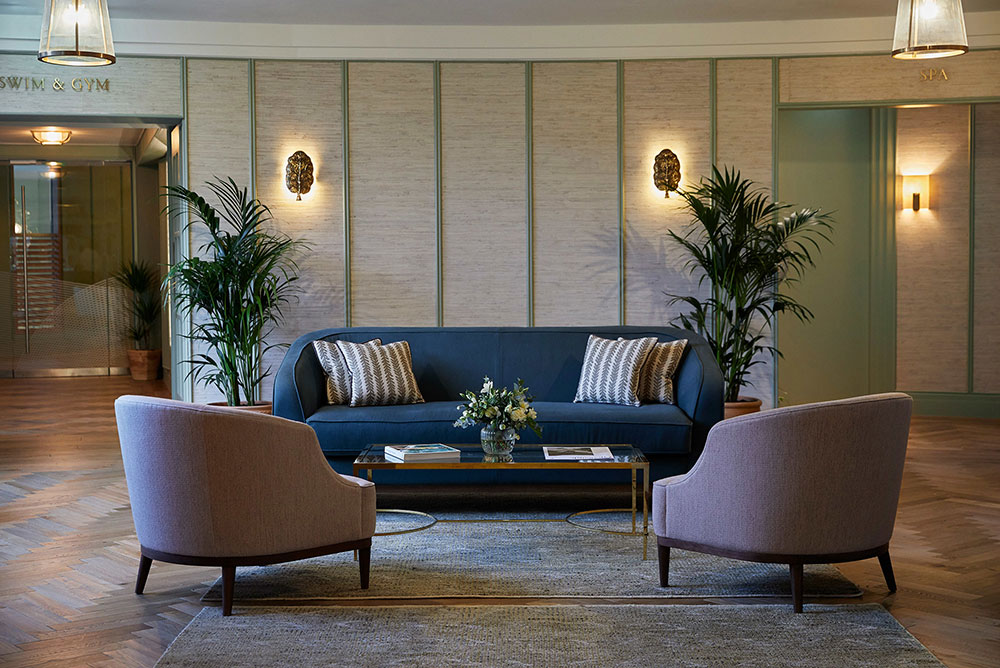 Gleneagles Wellness Spa Entrance
I'm really interested to hear about your career highlights.
I think getting to travel with work has been a major highlight. It's great that your job can lead to that! I've done quite a lot of work in the USA, for example. I worked with an American company for six years and getting the chance to go over there to see how they work was fascinating. It was a totally different experience to working over here. Learning how other people create and finding the method in their madness, so to speak, is a big motivator.
I think it's a great thing that you consider your highlight to be something that actually isn't pinned on one particular project or design. I suppose projects come and go, whereas you have gained wonderful memories.
Yes, exactly. Projects that are brilliant at the time eventually age and need to be updated or replaced after so many years. I enjoy the experiences I've gained with the people rather than thinking of how good the design was.
This is a good moment to talk about your creative process. Where do you get your inspiration from? And how do you go from a blank canvas to the bare bones of a design?
This can actually be a bit of a team effort. Everyone getting their heads down and into online research, pulling images, even drawing inspiration from work we've done before… then it's about putting pencil to paper and creating doodles and scribbles. We have lots of sketch and tracing pads dotted all around the studio to help us find a little seed of something. Then we'll start doing fuller drawings and really filling out the idea. So, it comes down to lots of research, then getting the pencils out!
'Little Glen and The Den' at The Gleneagles Hotel
When you are in this phase of design, do you prefer to have everyone together to bounce ideas of one another? Or would you consider this a singular process until some more solid ideas come around?
Well, I consider both to be important. When you are working in the office and talking about ideas together it can be really inspirational, however, the process can get interrupted with phone-calls, emails and questions about other projects, etc. I like to go home at night; relax with my headphones on, maybe a nice beer, forget about the rest of the workday and just sketch away. Sometimes your best ideas come this way. There is no pressure, and you can just listen to your music and create. You can't force the process, and once you start to get into your flow things really start to happen and it becomes exciting.
Simon, it's been fantastic talking to you! I just have one last question if I may… Why Moda Ceramics?
I've known Greig a long time, since his Porcelanosa days in fact, and he definitely knows his stuff. When Moda Ceramics came along it was great because it's lovely to see something fresh in the market. The products are fantastic, and you get such a personable service. It also comes with an exclusivity factor, because not many people have heard of Moda products yet, which my clients love.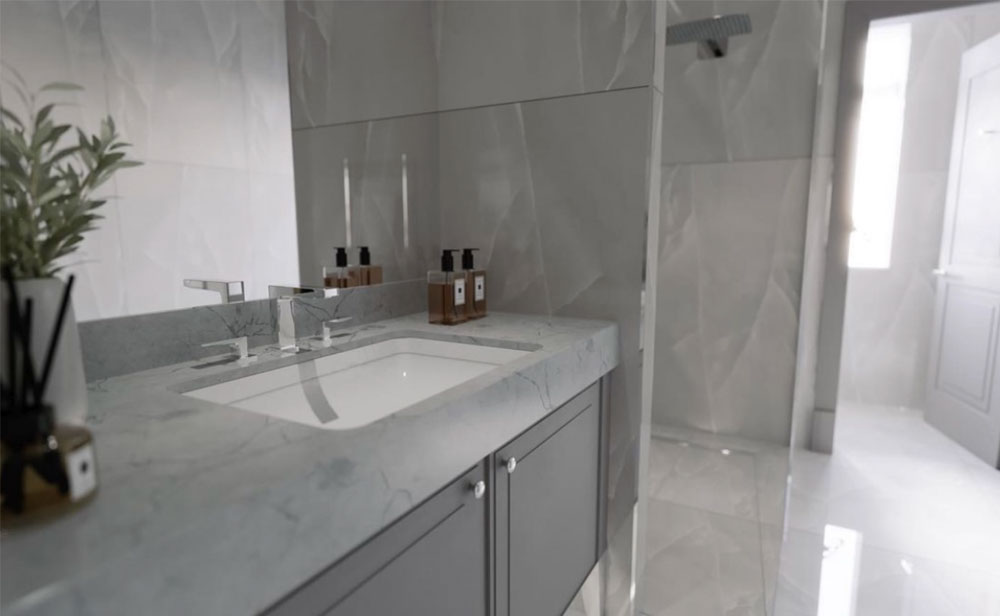 Private Residence Master Bathroom featuring Prestigio Onyx marble effect by Moda Ceramics